We provide lawn and landscaping services in Alpine, NJ.
Our team provides landscaping, design and build, lawn care and maintenance, irrigation, and other services.
Alpine, NJ, is a borough in Bergen County located along the Hudson River. One of the most famous attractions in Alpine is Palisades Interstate Park, which is home to breathtaking basalt cliff formations and more than 30 miles of trails that are perfect for hiking, biking, and cross-country skiing.
The beauty of Alpine is simply undeniable, and we like to help maintain this beauty! Our team at Ascape Landscape provides a wide range of lawn care and maintenance, landscaping, design and build, and irrigation services to commercial properties in Alpine, NJ. We also create green roofs and supply and install CU-Soil and Silva Cells to help urban landscapes thrive. If you are in the market for residential irrigation or landscape lighting services, you can count on our team at Ascape Landscape & Aquascape Irrigation to get the job done right.
---
Our landscaping services will make your landscape in Alpine more attractive.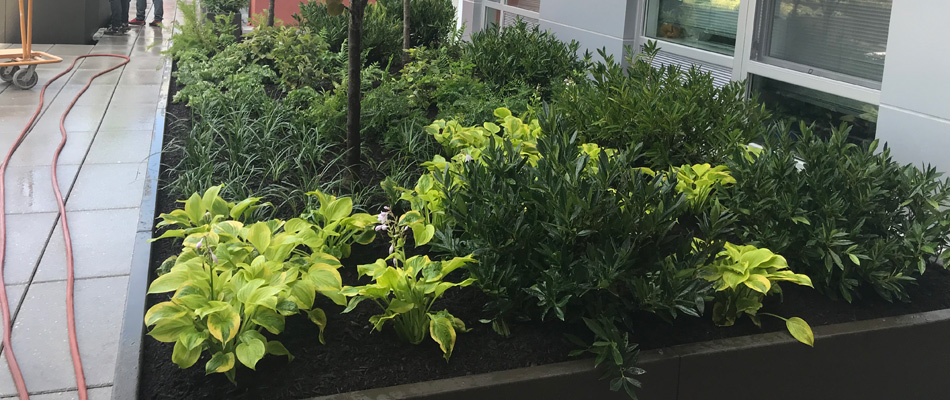 Well-maintained landscapes are a sight to behold and will make your property in Alpine, NJ, stand out in your community. We're here to help with our landscaping services! Our team can help you design the perfect landscape with beautiful landscape beds and vibrant plants. Landscape lighting can also showcase your landscape's beauty at night. Additionally, we are able to handle all of your landscape maintenance needs through services like trimming and pruning, landscape bed weed control, and more. Check out all the landscaping services we provide:
If you need to take down any problematic trees, we can help with our tree removal service. We'll also eliminate the stump with our stump grinding service!
---
We create beautiful outdoor living spaces with our design and build services.
An excellent outdoor living space allows you to enjoy the beautiful weather in Alpine, NJ. Whether you want to cozy up near a fire pit or an outdoor fireplace or host fun cookouts in your outdoor kitchen, we can make it happen with our design and build services. Our team will help you create a beautiful outdoor living space for your property by adding exceptional hardscaping features such as:
---
Our Lawn Care & Maintenance Services Include Lawn Fertilization, Weed Control, Lawn Mowing & More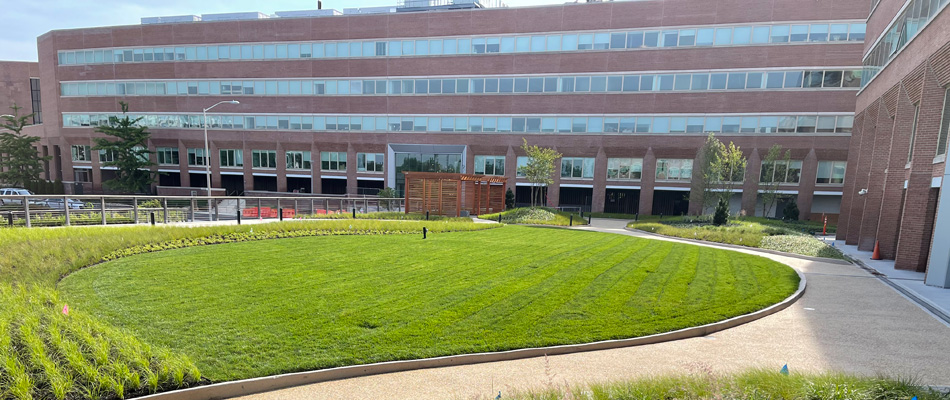 Lawn care is a lot of work, but when done right, it will result in a strong and vibrant lawn that can take your breath away. Let our lawn care pros help you out. We can give your lawn in Alpine, NJ, everything it needs to thrive and protect it from the stress and damage caused by weeds, diseases, insects, and soil compaction. We can also handle essential lawn maintenance services like lawn mowing and yard cleanups to keep your grass neat and beautiful.
---
We offer irrigation services like installation, maintenance, repairs, startups, and winterization.
An irrigation system is the best way to keep your lawn and plants in Alpine, NJ, well-hydrated. We can install drip and sprinkler irrigation systems designed to meet your vegetation's hydration needs. Our team can also handle your irrigation system's maintenance and repairs to keep it working in top condition. Here are all of the irrigation services we offer:
---
We provide other services such as air spading, CU-Soil installation, and more.
Our team can do much more than keep your lawn and landscape beautiful. We can also install Silva Cells that are designed to support large trees while providing on-site stormwater management. Additionally, we supply and install CU-Soil, an engineered soil mix that provides ample rooting area for urban trees while offering safe support for pavement and sidewalks. Furthermore, we can enhance your building's aesthetics by creating a stunning landscape on the rooftop of your building in Alpine, NJ, with our green roof service. If you need help reducing soil compaction to ensure your trees can access essential nutrients, you can rely on our air spading service.
---
Call us today to schedule our lawn and landscaping services.
Here at Ascape Landscape, we are thrilled to provide all of our lawn and landscaping services for commercial properties in Alpine, NJ. Our crew has been providing top-of-the-line lawn care and maintenance, landscaping, and landscape construction services since 1984. We also offer our irrigation and landscape lighting services to residential properties through our team at Ascape Landscape & Aquascape Irrigation. We are well-equipped with the skills, training, and equipment to provide you with outstanding results. Call us today at (845) 353-6500 to schedule any of our services.